Altruistic, Informed, Value Seekers
At the height of the financial crisis Steven Connell, former partner at the Capital Group Companies, cultivated the belief that the only profit an advisor should be worried about is their client's.
A year later he founded Diamond Head Financial Advisors LLC, a Hawaii-based investment advisory.
He knew he could help others achieve their financial goals by offering: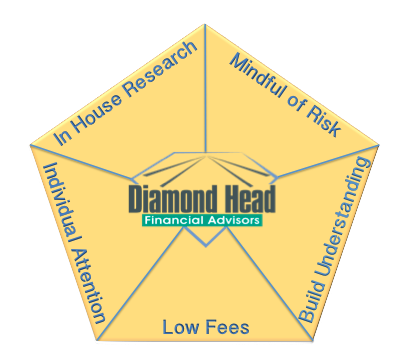 In House Research: We do our own research and portfolio management rather than outsource to mutual funds. Our expertise is finding high value stocks that others cannot.
Mindful of Risk: We are opportunistic, but being aggressive is not an excuse for losing a client's money. We find asymmetric opportunities where the benefits outweigh the risks.
Build Understanding: Our clients should never feel left in the dark. We hold biweekly investment meetings open to all clients and potential clients every 2nd and 4th Thursday from 6:30pm to 8:30pm in our downtown office to discuss anything stocks. Understanding is the foundation for patience without which no investor can be successful.
Individual Attention: We understand every client has different financial goals. We are never too busy for our clients and will address any questions or concerns they have.
Low Fees: We charge lower fees than most financial advisors because we do not outsource management of your money. Our 1-2% fees on assets under management are all you will have to pay versus 3-5% at other places. .